I propose to spend a day in nature, to reconnect with oneself and with Nature by means of contact print process. At the end of this shared moment, you go back with cards or notebook and your own  bundle* …                                        Which you will undo/unroll three weeks later…
I will provide the fabric and the paper that you will use. It will have been prepared to receive the dyeing and the different plants. Most of the time it will be a piece of silk, wool or a silk/wool blend, 200 x 70 cm in size and watercolor paper.
*bundle : fabric on which you have gathered plants then rolled and tied .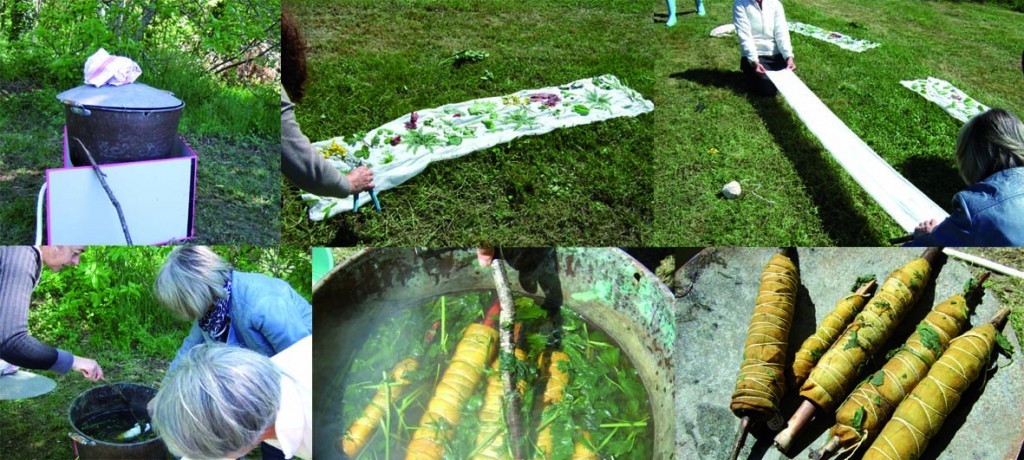 workshop vert soi – Figeac 16 may 2016
RÉSERVATION by mail ou by phone/sms
mapie@mapiedesvignes.com / 0770763116
course of the day
from 9:00 am to 6:00 pm (times may change)
short presentation at the meeting point.
on the site of the workshop: harmonization to the place and to oneself.
recognition of the place and collection** of plants for the dyeing bath… heating in the cauldron.
tea break, for an explanation of the process of the imprints.
"time out" for yourself… gathering** of "personal" plants… making a notebook or cards and putting them in the bath.
meal (Spanish inn)… nap…
opening the papers
"suspended time" for oneself… gathering** of "personal" plants… making bundles and bathing.
pause, the time of the bath… 1 hour to 1 1/2 hours
**during the pickings, thank you also to collect what does not belong to nature… it is an exchange…
(PICTURES COMING SOON of the first bundles unrolled)
Practical information
Depending on the location of the workshop and where the participants are coming from, I suggest carpooling to get there.
DATES :
POSSIBILITY TO PROPOSE DATES AND PLACES
for a minimum of 5 and a maximum of 8 participants.
PRICE :
the workshop is priced at 80 € (this price includes the stole and the paper to print) for people in financial difficulties, thank you for contacting me (possibility to pay in several times or other)
TO BE PROVIDED :
a pair of secateurs or scissors (if you have them)
something to bring back your bundle still wet and something to pick up…
and anything else you want for a nice picnic!